EILEEN ha creato un ricco deposito di materiali per sostenere l'apprendimento interculturale e la sua validazione in imprese europee – la EILEEN TOOLBOX.
La TOOLBOX è composta da:
La piattaforma di e-learning con corsi per sviluppare le competenze interculturale e di mentoring e la loro convalida, sia per le imprese e per i tirocinanti.
Clicca qui per registrarti per la piattaforma e-learning EILEEN.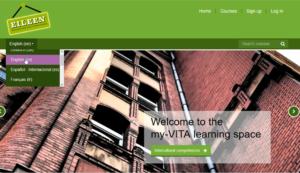 Raccomandazioni per la corretta applicazione dell'approccio "EILEEN su come implementare e validare l'apprendimento interculturale nelle imprese.
Scarica il documento cliccando su questo link.
Esempi di buone pratiche: alcuni brevi video che mostrano come EILEEN è stato applicato in tutti i paesi partner.

Il WEE-Label – un marchio di qualità europeo per le imprese europee


The WEE label intends to be a European quality label that can provide a clear signal to job seekers from all European countries that are looking for a job in Europe.
Scarica WEE in breve e il volantino su WEE