EILEEN has created a large repository of materials to support intercultural learning and its validation in European enterprises – the EILEEN TOOLBOX.
The TOOLBOX consists of:
E-learning platform with courses promoting intercultural and mentoring competences and their validation both for enterprises and for interns .
Click here to  sign up for the EILEEN  e-learning platform.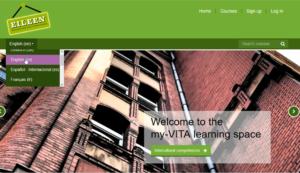 Acting recommendations on how to implement and validate intercultural learning in enterprises.
Download the document by clicking on this link.
Good practice examples: some short videos showing how EILEEN became alive in the partner countries.

The WEE-Label – A European Quality Label for European Enterprises


The WEE label intends to be a European quality label that can provide a clear signal to job seekers from all European countries that are looking for a job in Europe.
Download the WEE LABEL at a glance and the WEE label flyer