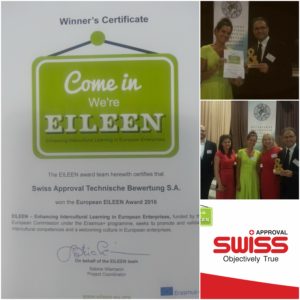 On 09.09.16 during the final conference in Athens the winners of the EILEEN award were celebrated and presented their trophies and certificates. The main prize of the award was the trip to the final conference. The winners were given the opportunity to present their projects to the audience.
The three winners are:
Swiss Approval Technische Bewertung S.A., Athens, Greece
Intermobil – Intercultural competence training for SMEs hosting European mobilities, Erasmus+ Project, presented by FH JOHANNEUM, Graz, Austria
EasyDoesIT – A project idea, presented by G. Anna Rodriguez, Marseille, France
Find out more about their projects here.